"The Lord is a refuge for the oppressed, a stronghold in times of trouble."—Psalm 9:9
This powerful verse from Psalm 9 reminds us of the resolute protection and refuge we find in the Lord. In times of trouble and uncertainty, when we need solace, peace, and comfort, we can turn to God and His ultimate promise.
Just as a fortress provides safety and security, God's presence and love...
---

Living in the US bestows upon us an invaluable privilege, a gift that not all people around the world have—freedom. This country, whose foundations are rooted in Christian principles, presents us with boundless opportunities to serve and uplift our communities. Let's 
explore how we can effectively and proactively...
---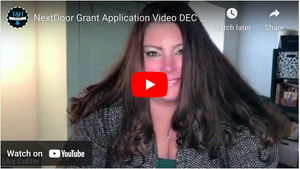 Take a sneak peek at our NextDoor Kind Foundation Grant Application Video. We're so excited to potentially receive $5k to grow our small, woman-owned business!
---
• family • God's word • parenting • power of words • Thessalonians • words are powerful
So hubby turns to me and says, "I would never say those things to someone." 😮
---
• blessing • Dracula • dreams • empowered • empowerment • encouraged • encouragement • energized • epiphany • God • God's answer • Holy Spirit • immortality • Mr. Rogers

Have you ever woken up from a dream and felt energized? Encouraged? Even empowered?
I woke up from a dream this morning; a dream where I had become immortal. However, this wasn't a Dracula and vampires type of dream...